SimpleModal 1.3.5 Released
SimpleModal 1.3.5 is now available for download.
The transient option, which was added in 1.3.4, was renamed to modal because transient is a reserved word and was causing issues.
Also, the reference to $.support.boxModal was changed back to $.boxModal to remain compatible with older versions of jQuery.

I've also been working on a new site for SimpleModal. It's not ready yet, but I've included a preview below: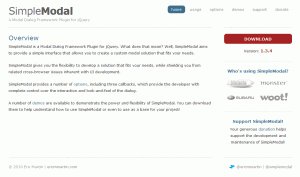 Also, if you have any feedback or input on what you'd like to see on the new site, please let me know. I want to make it as useful as possible.
If you have any questions regarding SimpleModal, I strongly suggest using stackoverflow. If you find any bugs, please report them on the issues page.
Thanks for using SimpleModal!
Links: Project Page | jQuery Plugins Page