JSMag September 2009 – Free Issues
The September 2009 issue of JSMag is now available and I'm happy to announce that one of my photos was selected for the cover.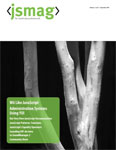 September's issue contains articles on:
Wii Gaming with JavaScript
Beginners Corner: Inline Documentation
Administrative Systems with YUI
Sound Manager
JavaScript Patterns - More Functions
JavaScript's Equality Operator
Community News
After reading through the issue, I am impressed with the quality of the articles and would strongly suggest JSMag to any developer that is serious about JavaScript.
Michael Kimsal, the man behind JSMag and GroovyMag, generously provided me with a coupon code for 10 free copies of the September issue to share with others.
Leave a comment requesting a free copy and on Friday (9/4) at 2pm PST, I will randomly select 10 winners.
Congratulations to the 10 winners below!
Enjoy!